WHAT IS P&G INTERNSHIP ABOUT?
The P&G Internship is an opportunity for promising students to experience P&G culture and make a difference in the business. Each intern will have a tailored work and learning plan to ensure that they receive coaching, mentor-ship, and formal training to succeed during their 8 weeks internship.
From 2015, we are launching the Asia Internship Exchange program for selected interns. They will be sent to Asia markets for their 8 weeks internships.
WHY TAKE P&G INTERNSHIP?
Work on a live, independent business project that YOU OWN, LEAD and EXECUTE
Experience a global corporate environment and work with a diverse, cross-cultural team
Get formal training & coaching from P&G's Leadership and Functional Colleges
Experience being a P&Ger and present your project to senior leaders during your midpoint and final presentation
Get compensated for the work you deliver
Finally, the best fit interns have potential to receive a Job Offer from P&G for Fulltime Management Positions after they graduate
WHO CAN APPLY FOR P&G INTERNSHIP?
The program is opened for students in their last or penultimate year of pursuing a bachelor's degree, have strong academic performance and leadership experiences.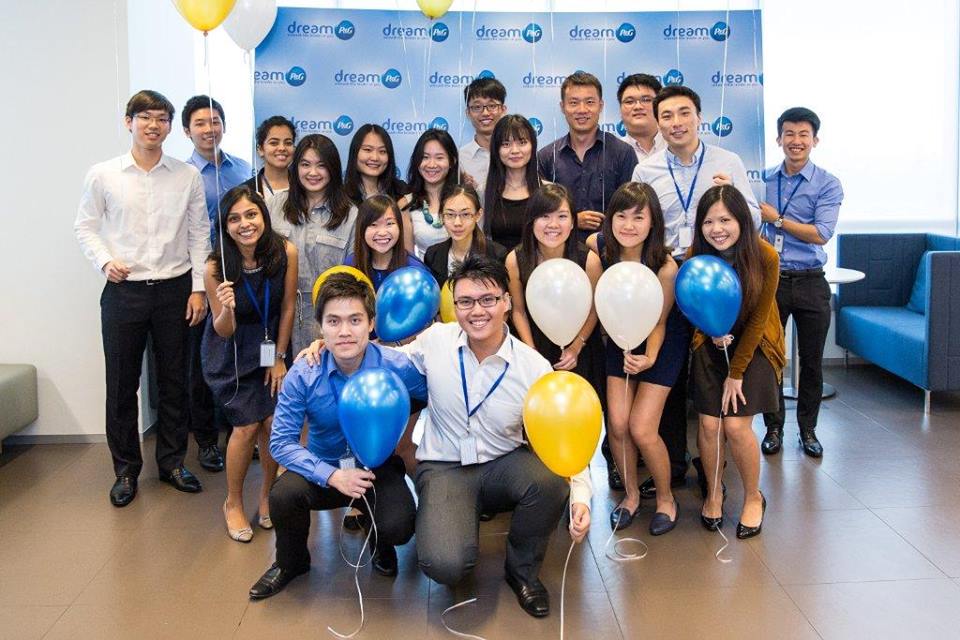 How to Apply
Click HERE and search for location- Singapore, requisition- P&G Internship. Deadline will be 30th January 2016. Kindly note that  the requisition can be closed right after we have enough participants. 
1. Complete the online application and take the online assessment. 
2. Take the Global Reasoning Test at P&G Office.
3. Pass the Resume Screening in the Function you are applying for.
4. Pass the Comprehensive Interviews in the Function you apply for. 
Testimonials of Successful Interns
Cassandra Tian Hui Seto - PSC Demand Planner – JP Hair Care & Oral Care 
National University of Singapore, Bachelor of Engineering (Chemical & Biomolecular)

An internship with P&G gave me the opportunity to interact and learn from the leaders, both current and future, in one of the world's biggest FMCG companies. I felt like a valued business partner with the tremendous amount of autonomy and support from multi-functional teams across geographies as I led the analysis to deliver cost savings for the supply chain. Working on a real life business challenge was an enriching and empowering experience for me, and it has why I have chosen a career in P&G Product Supply.

Viknesh Balakrishnan - Demand Planner SKII ASEAN 
Singapore Management University, Bachelor of Science Economics

An Internship with P&G is more than just an experience. It is a way of life that offers unique opportunities and rewards. Interning as a Programme Manager was without a doubt, one of the most challenging and rewarding undertakings possible for me. I was entrusted to work on real life projects, which allowed me to develop my leadership abilities and equipped me with the skills needed to manage a diverse group of people and to succeed in my current role as a Demand planner

Liew Ee Chan - Financial Analyst, BFO SK-II 
National University of Singapore, Electrical Engineering

I had my finance internship with Gillette. I was given the task to propose the most optimal combination of Marketing Activities to maximize growth for Gillette in Australia. What amazed me during the internship was the time and resources that P&G invested on me. They trained me and bridged the knowledge gap to finance as I was from an engineering background. In addition to this, the senior executives in P&G were very friendly and guided me on the Gillette business model which provided me with the necessary support to complete my analysis. Lastly, the top management really took my recommendation seriously and implemented them. Despite being an intern with only 2 months of experience in the company. I was overwhelmed with pride when I could see my recommendation implemented in the stores in Sydney. What really makes me love my time in P&G is that the people whom I work with are really passionate with the business. They are also a fun company such that we continue to hang out with each other outside of work!