P&G CEO ACADEMY- Learn from #1 Company for Leaders (*)
(*) Ranking from Chief Executive Magazine in 2014
P&G's highly successful CEO Academy is a flagship program to grow and hone student leaders in the same way we have been growing P&G Leaders for generations. At the core of this training program, there will be intensive & inspiring hands-on experiences which will unlock the door to the largest FMCG Company in the world.
Why CEO Academy is for you ?
Opportunity to receive training from P&G senior leaders that will empower you.
Get a comprehensive perspective of daily lives in P&G
Get up close with P&G Leaders. Get first-hand experience of what we do.
Explore internship and career opportunities in P&G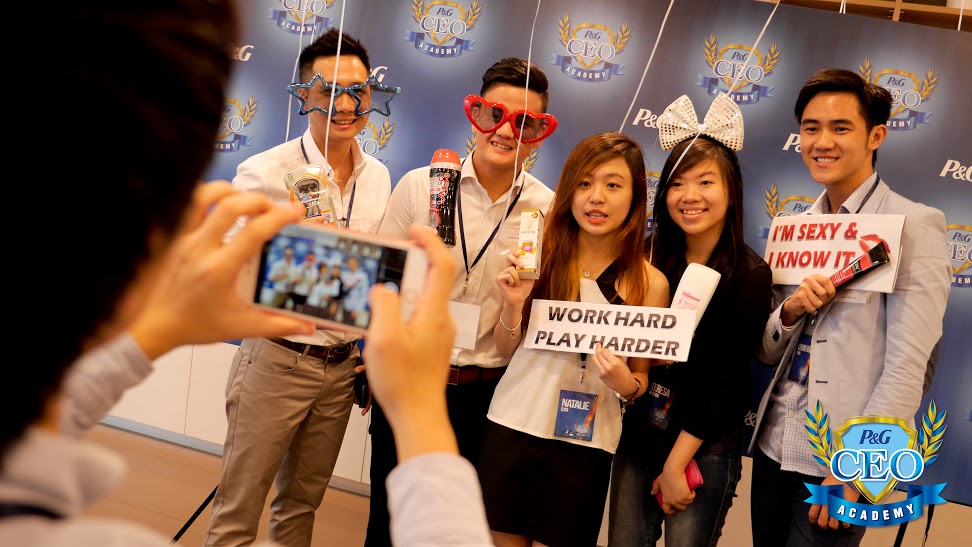 Eligible Participants
Penultimate year students who are pursuing Bachelor's Degree and have 1 year left for graduation
Have real leadership experience, demonstrated through their contribution in student club, organization activity
How to Apply
1. Complete your application by clicking HERE and choose location - Singapore, choose the requisition- CEO Academy position.  Kindly note that this position will be available from Oct - Dec every year. 
2. Fill in your personal information and upload your resume:
Your resume should be 1 page maximum and contain the following information: Academic results, including GPA and any other scholastic achievements

Your top 3-5 leadership experiences and achievements to date. Include 2-3 sentences to describe your specific role, the intervention you made and results achieved.

1 sentence to describe your learning objective – what you want to learn from the CEO Academy
3. P&G Singapore will identify  successful applicants nationwide who will be invited to join the P&G CEO Academy.
VOICES OF CEO ACADEMY ALUMNI
Tan Bing Min - National University of Singapore, Mechanical Engineering 


My key impression from the program was to not hide your failures. Failures, in P&G, were seen not as a sign of incompetence but part of the risk-taking and innovation process. Failures provided valuable lessons to prepare for success. During the 3 days, I had the privilege to hear from the senior leaders in P&G about their failures and how that led them to future successes. This left a profound impact on me as I saw how P&G leaders not just rebounded from failure, but capitalized on their failures to become even better than before. Thank you P&G, for this opportunity to learn from the best in the industry.

Yun Si Min - Singapore Management University, Marketing and Psychology 


P&G CEO Academy gave me a valuable opportunity to immerse in the culture of one of the world's best. It gave me an insight into why P&G ticks—it's about the people. At P&G, people dream big and embrace challenges. Also, one of the most remarkable experience for me was how P&G CEO Academy turned everything I have learnt in school into life. I've learnt how some of the strongest brands around are created. For once, ditch your books! P&G CEO Academy is when books and theories come to life.

Joel Lam - National University of Singapore, Philosophy 


The key takeaway is simple: to be a better leader, you think with your head, heart and feet. Set the vision, rally your forces and knock it out because the only strategy the consumer ever sees is execution. A story deeply etched in my mind is one told by Daphne, one of P&G's brand managers. There was a mother in Philippines that stockpiled Downy in her fridge as it had anti-bacterial properties that prevented her daughter's allergies from surfacing. It was then I realized that I could truly improve the lives of many people by delivering solid value through P&G's products if I worked in P&G.

 

Jolene Sng - Nanyang Technological University, Marketing 


A successful brand is not only one that prospers in business terms, but also one that touches the lives of its consumers. At the CEO Academy, it has been an eye-opener meeting and picking the brains of the brilliant minds behind the brands I interact with everyday. "If you're not learning, you fail" - definitely a key advice I will remember for life to never stop learning and seeking.

Niu Muye - Nanyang Technological University, Electrical and Electronic Engineering (EEE) 


Thanks so much for organizing the exciting event. It has broadened my perspectives about leadership and teamwork as well as given me the chance to get acquainted with many new friends. I also had a deeper understanding of my capabilities, which in turn allows me to develop my full potential for future success.

Priyanka Naik - Singapore Management University, Finance and Accounting 


This well-structured program provided me the opportunity to learn from top industry professionals, interact with P&G leaders and get a comprehensive perspective of life at P&G. It reinforced that honesty, ability to delegate, communication, confidence, and intuition are essential qualities to be a charismatic leader. I am truly grateful to be a part of it.